1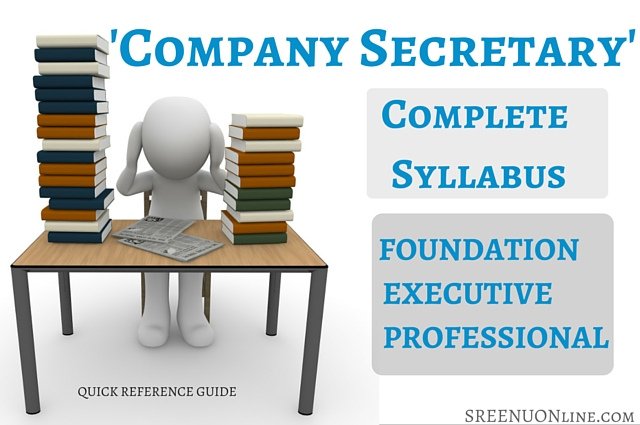 Company Secretary Course – Syllabus
'Company Secretary' course conducted by ICSI is a three level program which starts from foundation level -> executive level -> professional level. Those who are graduates (except fine arts) can directly register for executive level.
Subjects and detailed syllabus of each level are mentioned below for your quick reference
FOUNDATION PROGRAM
Foundation program consist of four subjects each carrying 100 marks. Foundation exams are computer based exams.
PAPER 1: BUSINESS ENVIRONMENT AND ENTREPRENEURSHIP
Part A: Business Environment (30 MARKS)
Business Environment
Forms of Business Organization
Scales of Business
Emerging Trends in Business
Business Functions
Part B: Business Laws (40 MARKS)
Introduction to Law
Elements of Company Law
Elements of Law relating to Partnership
Elements of Law relating to Contract
Elements of Law relating to Sale of Goods
Elements of Law relating to Negotiable Instruments
Part C: Entrepreneurship (30 MARKS)
Entrepreneurship
Entrepreneurship – Creativity and Innovation
Growth & Challenges of Entrepreneurial Venture
PAPER 2: BUSINESS MANAGEMENT, ETHICS AND COMMUNICATION
Part A: Business Management (40 MARKS)
Nature of Management and its Process
Planning
Organisation
Human Resource Management
Direction and Co-ordination
Controlling
Recent Trends in Management
Part B: Business Ethics (20 MARKS)
Part C: Business Communication (40 MARKS)
Business Communication
Essentials of Good English
Business Correspondence
Administration
Inter-departmental Communication
Preparation of Press Releases
E Correspondence
PAPER 3: BUSINESS ECONOMICS
Part A: Economics (70 MARKS)
Nature and Scope of Economics
Theory of Demand and Supply
Theory of Production, Costs and Revenue
Forms of Markets and its Equilibrium
Money and Banking
Basic Characteristics of Indian Economy
Selected Areas of Indian Economy (Population, Poverty, Unemployment, Infrastructure)
Part B: Elementary Statistics (30 MARKS)
Statistics: An Overview
Collection and Presentation of Statistical Data
Measures of Central Tendency
Mathematics of Finance
Probability
Index Numbers and Time Series Analysis
PAPER 4: FUNDAMENTALS OF ACCOUNTING AND AUDITING
Part A: Fundamentals Of Accounting (70 MARKS)
Theoretical Framework
Accounting Process
Bank Reconciliation Statement
Depreciation Accounting
Preparation of Final Accounts for Sole Proprietors
Partnership Accounts
Introduction to Company Accounts
Part B: Fundamentals Of Auditing (30 MARKS)
Auditing
Audits and Auditor's Reports
EXECUTIVE PROGRAM
Executive program consist of seven subjects divided into two modules. Examination of 'Cost and Management Accounting', 'Tax laws and Practice' & 'Industrial, Labour and General laws' are conducted in OMR mode.
MODULE 1
PAPER 1: COMPANY LAW (100 MARKS)
Introduction
Incorporation and its Consequences
Financial Structure
Membership in a Company
 Management and Control of Companies
Investments, Loans and Deposits
Accounts and Audit
Dividends
Registers, Forms and Returns
Inspection and Investigation
Majority Rule and Minority Rights
Merger, De-merger, Amalgamation, Compromises and Arrangements – An Overview
Producer Companies
Limited Liability Partnerships
Application of Company Law to Different Sectors
Offences and Penalties
Compounding of Offences
Winding up of Companies –An Overview
Striking Off Name of Companies
An Introduction to E-Governance and XBRL
PAPER 2: COST AND MANAGEMENT ACCOUNTING (100 Marks)
Introduction to Cost and Management Accounting
Material Cost
Labour Cost
Direct Expenses and Overheads
Activity Based Costing (ABC)
Cost Records
Costing Systems
Marginal Costing
Standard Costing
Budget, Budgeting and Budgetary Control
Cost Accounting Records and Cost Audit
Analysis and Interpretation of Financial Statements
PAPER 3: ECONOMIC AND COMMERCIAL LAWS
PART A: (70 Marks)
Foreign Exchange Management
Foreign Trade Policy and Procedures
Competition and Consumer Protection
Intellectual Property Rights
Law relating to Arbitration and Conciliation
Law relating to Transfer of Property
Law relating to Stamps
Law relating to Contract
Prevention of Money Laundering
PART B: (30 Marks)
Law relating to Essential Commodities, Weights and Measures
Law relating to Societies
Law relating to Trusts
Industries Development and Regulation
Law relating to Pollution Control and Environmental Protection
Law relating to Registration of Documents
PAPER 4: TAX LAWS AND PRACTICE
Part A: Income Tax and Wealth Tax (70 MARKS)
Basics and Definitions – Income Tax Act, 1961
Incomes which do not form part of Total Income
Computation of Total Income under Various Heads
Other aspects relating to Income Tax
Classification and Tax Incidence on Companies
TDS, TCS, Recovery and Refund, Advance Tax
Procedures relating to Income Tax
Tax Planning & Tax Management
Wealth Tax Act, 1956
Basic Concepts of International Taxation
Transfer Pricing
General Anti Avoidance Rules (GAAR)
Part B – Service Tax & Sales Tax (30 MARKS)
An Overview of Service Tax
An Overview of Value Added Tax
MODULE 2
PAPER 5: COMPANY ACCOUNTS AND AUDITING PRACTICES
Part A: Company Accounts (70 MARKS)
Share Capital
Debentures
Final Accounts of Companies
Corporate Restructuring
Consolidation of Accounts
Valuation of Shares and Intangible Assets
Liquidation of Company
Corporate Financial Reporting
Accounting Standards
Part B: Auditing Practices (30 MARKS)
Auditing Concepts
Types of Company Audit
Internal Audit
Internal Control
Review of Internal Control
Audit Engagement and Documentation
PAPER 6: CAPITAL MARKETS AND SECURITIES LAWS
Part A: Capital Markets (60 MARKS)
Overview of Capital Market
Capital Market Instruments and Rating
 Securities Market Intermediaries
Market Infrastructure Institutions – Stock Exchanges
Debt Market
Money Market
Mutual Funds
Venture Capital
Collective Investment Schemes
Resource Mobilization in International Capital Market
Indian Depository Receipts
Part B: Securities Laws (40 MARKS)
Securities Contracts (Regulation) Act, 1956
SEBI Act, 1992
Depositories Act, 1996
Issue and Listing of Securities
Regulatory Framework relating to Securities Market Intermediaries
An Overview of Law relating to Insider Trading and Takeovers
PAPER 7: INDUSTRIAL, LABOUR AND GENERAL LAWS
Part A: Industrial and Labour Laws (70 MARKS)
Factories Act, 1948
Minimum Wages Act, 1948
Payment of Wages Act, 1936
Equal Remuneration Act, 1976
Employees' State Insurance Act, 1948
Employees' Provident Funds and Miscellaneous Provisions Act, 1952
Payment of Bonus Act, 1965
Payment of Gratuity Act, 1972
Employees' Compensation Act, 1923
Contract Labour (Regulation and Abolition) Act, 1970
Maternity Benefit Act,1961
The Child Labour (Prohibition and Regulation) Act, 1986
Industrial Employment (Standing Orders) Act, 1946
Industrial Disputes Act, 1947
Indian Trade Union Act, 1926
The Labour Laws (Simplification of Procedure for Furnishing Returns and Maintaining Registers by Certain Establishments) Act, 1988
Employment Exchanges (Compulsory Notification of Vacancies) Act, 1959
Apprentices Act, 1961
Labour Audit covering the above Acts and those Industry Specific Acts
Part B: General Laws (30 MARKS)
Constitution of India
Interpretation of Statutes
An Overview of Law relating to Specific Relief; Limitation and Evidence
Code of Civil Procedure
Indian Penal Code and Criminal Procedure Code
Right to Information
PROFESSIONAL PROGRAM
Professional Program consist of nine subjects divided into three modules, in which the ninth subject is an optional subject which is to opted out of five subjects as per students discretion.
MODULE 1
PAPER 1: ADVANCED COMPANY LAW AND PRACTICE (100 MARKS)
Company Formation and Conversion
Procedure for Alteration of Memorandum and Articles
Procedure for Issue of Securities (Shares & Debt Instruments)
Procedure relating to Membership, Transfer and Transmission
Directors and Managerial Personnel
Meetings
Auditors
Distribution of Profit
Procedure relating to Charges
Procedure relating to Inter-Corporate Loans, Investments, Guarantees and Security
Preparation & Presentation of Reports
E- Filing
Striking off Names of Companies
Recent Trends and Developments in Company Law
Trusts and Non Profit Organisation
PAPER 2: SECRETARIAL AUDIT, COMPLIANCE MANAGEMENT
AND DUE DILIGENCE
PART A: Secretarial Audit (25 MARKS)
Secretarial Standards
Secretarial Audit
Checklist for Secretarial Audit
Part B: Due Diligence and Compliance Management (75 MARKS)
Due Diligence – An Overview
Issue of Securities
Depository Receipts Due Diligence
Merger & Acquisition (M&A) Due Diligence
Competition Law Due Diligence
Legal Due Diligence
Due Diligence for Banks
Environmental Due Diligence
Search and Status Reports
Compliance Management
PAPER 3: CORPORATE RESTRUCTURING, VALUATION AND
INSOLVENCY
Part A – Corporate Restructuring (50 MARKS)
Introduction and Concepts
Merger and Amalgamation
Corporate Demerger and Reverse Merger
Takeover
Funding of Merger and Takeover
Financial Restructuring
Post Merger Reorganization
Case Studies
Part B – Valuation (30 MARKS)
Introduction
Valuation Techniques
Regulatory and Taxation Aspects
Valuations for Different Strategies
Part C – Insolvency (20 MARKS)
Introduction
Revival, Rehabilitation and Restructuring of Sick Companies
Securitization and Debt Recovery
Winding Up
Cross Border Insolvency
MODULE 2
PAPER 4: INFORMATION TECHNOLOGY AND SYSTEMS AUDIT
Information Technology Law
Information Systems
Computer Hardware – An Overview
Computer Software – An Overview
Database Management
Programming – An overview
Internet and Other Technologies
Management Information Systems – An Overview
Enterprise Resource Management
E-Governance in India
Systems Audit – An Overview
PAPER 5: FINANCIAL, TREASURY AND FOREX MANAGEMENT (100 MARKS)
Economic Framework
Nature and Scope of Financial Management
Capital Budgeting
Capital Structure
Cost of Capital
Financial Services
Project Finance
Dividend Policy
Working Capital
Security Analysis and Portfolio Management
Derivatives and Commodity Exchanges- An Overview
Treasury Management
Forex Management
Practical Problems and Case Studies
PAPER 6: ETHICS, GOVERNANCE AND SUSTAINABILITY
Part A: Ethics and Governance (70 MARKS)
Introduction
Ethical Principles in Business
Conceptual Framework of Corporate Governance
Board Effectiveness – Issues and Challenges
Board Committees
Legislative Framework of Corporate Governance in India
Legislative Framework of Corporate Governance – An International Perspective
Risk Management and Internal Control
Corporate Governance and Shareholder Rights
Corporate Governance and Other Stakeholders
Corporate Governance Forums
Part B: Sustainability (30 MARKS)
Sustainability
Corporate Sustainability Reporting Frameworks
Legal Framework, Conventions, Treaties on Environmental and Social Aspects
Principle of Absolute Liability – Case Studies
Contemporary Developments – Integrated Reporting
MODULE 3
PAPER 7: ADVANCED TAX LAWS AND PRACTICE
Part A: Direct Tax Management (30 MARKS)
Taxation of Individual Entities, Partnership, LL.P, Companies
International Taxation Covering Taxation of Non Resident Entities, Advance Ruling, Transfer Pricing, Direct tax Avoidance Agreement.
Case studies and Practical Problems covering Advance Tax Planning relating to Companies
and Business Entities.
Part B: Central Excise, Customs, VAT and Service Tax (70 MARKS)
Introduction
Central Excise Laws
Customs Laws
Promissory Estoppel in Fiscal Laws
Tax Planning and Management
Service Tax
Goods and Service Tax (GST) – Concept and Developments
Value Added Tax (VAT)
PAPER 8: DRAFTING, APPEARANCES AND PLEADINGS (100 MARKS)
General Principles of Drafting and Relevant Substantive Rules
Drafting and Conveyancing relating to Various Deeds and Agreements
Drafting of Agreements under the Companies Act
Pleadings
Appearances
Compounding of Offences
Practical Exercises
Optional Subjects (100 Marks)
Paper 9.1 Banking Law and Practice
Overview of Banking System
Regulatory Framework and Compliances
Legal Aspects of Banking Operations
Banking Related Laws
Banker – Customer Relations
Loans and Advances
Securities for Banker's Loans
Financial Analysis of Banks
Financial System Contemporary and Emerging Issues: An Overview
International Banking Management
Electronic Banking and IT in Banks
Risk Management in Banks
Ethics and Corporate Governance in Banks
Paper 9.2 Capital, Commodity and Money Market
Economic Framework
Legal Framework
Financial Intermediaries Framework
Primary Markets
Secondary Markets
Capital Market Investment Institutions
Capital Market Instruments
Resource Mobilization through International Markets
Landmark Studies and Report of Committees on Capital Markets
Economics of Commodities Marketing
Commodities Market Operations
Introduction to Money Market
Paper 9.3 Insurance Law and Practice
Understanding and Managing Risk
General Principles and Concepts of Insurance
Insurance Contract and Indian Market Conditions
Regulatory Environment – Specific Legislations
Regulatory Environment – General
International Regulatory Framework
Life Insurance – Practices and Procedures
Life Insurance & Pension Products
General Insurance – Practices and Procedures – Focus Underwriting
General Insurance – Practices and Procedures – Focus Claims
General Insurance Products
Ethics and Corporate Governance Framework for Insurance Companies
Paper 9.4 Intellectual Property Rights – Law and Practice
Introduction to IPR, Patents
Patent Databases & Patent Information System
Preparation of Patent Documents
Process for Examination of Patent Application
Patent Infringement
Recent Developments in Patent System
Trademarks, Copyrights
Industrial Designs
Geographical Indications
Protection of Trade Secrets
Key Business Concerns in Commercializing Intellectual Property Rights
Management and Valuation of Intellectual Property
Paper 9.5 International Business – Laws and Practices
Introduction to International Business
International Business Environment
Multi National Enterprises (MNEs) and Foreign Direct Investment (FDI)
Foreign Trade Policy and Procedures
International Trade and Regional Economic Integration
Institutional Environment
Anti-Dumping Duties
Subsidies and Countervailing Duties
Foreign Collaborations and Joint Ventures
Strategic Alliances
Logistics Management