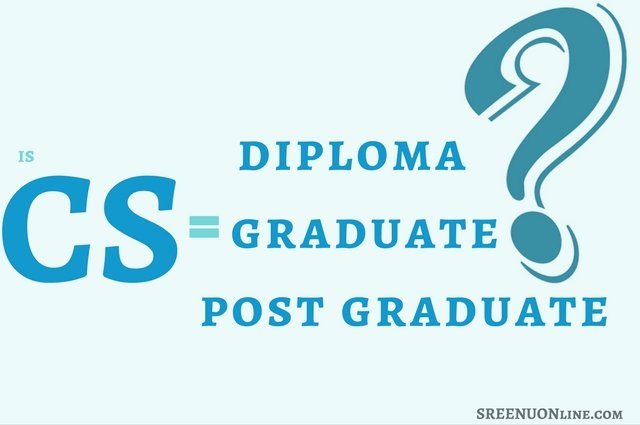 Is CS a Degree/Diploma/Post Graduate course?
One of the query which students aspiring to join 'Company Secretary' course, is regard to the status of the course i.e. whether it is equivalent to diploma or under graduation or post graduation.

Before getting to the answer to the query, you may please note that the 'Company Secretary' course popularly called CS is conducted by the Institute of Company Secretaries of India (ICSI), which is a premier national professional body, constituted under an Act of Parliament, namely the Company Secretaries Act, 1980.

Other major professional bodies constituted and operate under similar manner are:-
The Institute of Chartered Accountants of India – constituted under the Chartered Accountants Act, 1949
The Institute of Cost Accountants of India – constituted under the Cost and Works Accountants Act, 1959
ICSI is far different from the universities operating in India. CS course is a professional course and it can't be compared with other Degree and Diploma course conducted by the Universities.

However, various universities in India recognized 'Company Secretary' course as equivalent to Post Graduate Degree for pursuing Ph.D. Hence, one who has passed the CS course can pursue Ph.D from those universities without doing any Post Graduate Degree of any university.

Further, some universities (for example Indira Gandhi National Open University) recognize executive level qualified students as equivalent to Under Graduation and they can join for specified post graduate courses in those universities.

List of those universities which recognizes the Company Secretary Course for their various Diploma/Under Graduate/Post Graduate courses can find from the following link :- List of Universities for CS
Let me know does this article help you. All your views, opinions and suggestions are invited…